Carnival of Healing #17: Aging Reflections
Welcome to the 17th edition of the Carnival of Healing. The carnival theme is on personal growth and inner reflections.
Today is my birthday. Earlier this week I was considering throwing a blog party with lots of fun surprises and serving heaps of virtual angel food cake to all you carnival goers.
But, as I sit here typing away on the keyboard my mood has turned quiet. I am feeling more introspective rather than festive as I consider this life I'm living. Birthdays are a day of celebration. I will celebrate my life on this cold November day. I am sitting here quietly with a votive candle lit on my desk. As I watch the flame flicker I feel a gentle warmth glowing inside of me as I think fondly on my family and friends. I am grateful for my home and all the safety and comfort it affords me.
I have been reflecting on my personal growth in the past twelve months since I celebrated my last birthday. Each year of life has given me new experiences, new lessons. Each age offers new challenges, new opportunities. Much like tree rings and how each ring signifies its annual growth, I feel a stretching, although I am not physically growing any taller, my spirit continues to feels a spurt of growth now and again. Living my life is so much more fulfilling when I don't focus on the age factor. Yes, I am growing older. The alternative to growing older is no longer living in the physical. Life and the other side of life, two sides of a coin toss, I choose LIFE (aka growing older). Aging is knowlege. So much to learn, so much riper an age to rise to. I'll take my time and plod along as slowly as I can since I'm in no hurry to be too wise. Regardless, Crone-dom here I come.
Why is it that whenever we hear the phrase Celebrate A Life being said that there is usually a funeral happening? Don't get me wrong, it is good to celebrate the lives of those who have died by gathering and sharing our memories of them. But hey, let's celebrate life everyday to the fullest. I'm not the only blogger pondering about life and death issues this week. Lucy McDonald, offers guidance for helping others with the grief process this week in her blog Counselling Confidential. And ot00fineo, The Thoughts From My Entity asks "Do You Believe in Destiny?" in her post about Death and Life.
But let's celebrate life while we're living it too!
Joe Vitale writes about an interesting healer in his post The World's Most Unusual Therapist. Ihaleakala Hew Len says that he can heal others by focusing on clearing imbalances within himself. Joe flew out to Hawaii yesterday to attend a workshop explaining this Hawaiian healing technique called Ho'oponopono. I sure hope Joe blogs his take on the workshop afterwards. I think this therapist is on to something. Not a strange idea. Anyone who has spent considerable time working on healing themselves has likely noticed improved changes in those people around them.
Evelyn Rodriguez, Crossroad Dispatches, blogs Of Journals, Journeys, Julie and Julia. She speaks of the healing power of journaling and how life can be viewed as a pilgrimage.
Our personal journals help us record the "tree rings" in our daily, weekly, monthly, and yearly growth. As we look back on our entries and read them we see how far we have moved past our sorrows and missteps. We recognize how fiercely we fought for truth and fairness. We may discover what was once important may have faded away... or not. Journaling is healing, and time passing is also healing. And time IS passing isn't it? Oops, I just got smacked with birthday number trickery... isn't it all just an illusion this reality of our... time, age, everything!?!
Keeping current with the Carnival of Healing is just a single click away when you display our carnival logo on your personal Web site or blog. Click here to Get the Code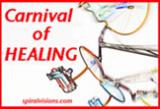 Looking back: Last week's carnival was hosted at About Holistic Healing
Looking ahead: Next week's carnival will be hosted at Crossroad Dispatches
Check the carnival hosting schedule to see who is hosting the carnival in upcoming weeks. Also, if you are interested in hosting the carnival at your blog please email me at healing.guide@about.com